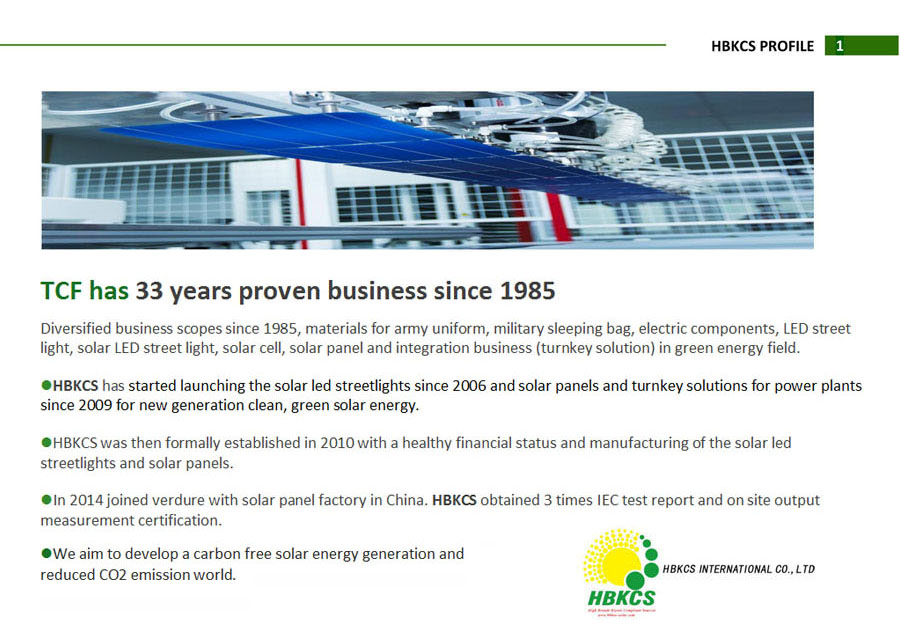 About HB-KCS | HBKCS INTERNATIONAL CO. LTD

Ideology:
We at HB-KCS think Solar Energy is clean, breathtakingly abundant, and is a reasonable recourse to meet much of the world's energy needs. Harnessing the same sunlight that has kept the earth warm for eons, we can finally achieve a more sustainable balance with nature as humanity advances and finds new, cleaner, and more efficient means of meeting its energy needs.
Brief Overview:
Provider of turnkey based Green Energy Solutions;
Leader in markets core business;
Wide experience of executing various kind of Projects in Green Power providing Solar Power Plant Design, High-Efficiency PV Modules, Inverters, Mounting System, System Installation, and smart LED Light outdoor-indoor solutions;
Capable of using technological advancement and innovations in engineering to satisfy the clients.
To achieve "Striving for the Best Solutions", we are teamed up with global leading Manufacturers / R & D Organizations;
Adequate Infrastructure facilities and skills;
HB-KCS focuses on global established and new markets such as Germany, Spain, Italy, Czech Republic, Australia, South Africa, Eastern Europe and South Asia;
HB-KCS is delivering Solar Solutions to industry segments, residential & commercial units.
For Clients, HB-KCS plays very important & vital role in bringing the latest technology at cost effective proposition as a forward looking and innovative engineering partner, for its clients - HB-KCS is the preferred engineering partner & co-supplier for technology leaders of the world. We concentrate on providing complete solution from manufacturing idea (concept to commissioning) to real commercial production on turnkey based managements with guaranteed performance.
At HB-KCS Strengths are:
•• Ability to execute large and complex projects on a turnkey basis
•• High quality standards
•• Cost competitiveness
Considerations:
The power requirements of each solar project will present distinct demands in terms of the number and type of solar panel to be used. A 2 to 4 kW solar panel system may suit the needs of a small house with only a few lights and laptops used everyday but may not supply sufficient power to operate high powered appliances such as washing machines or driers for long periods of time. Some large houses may need 10kW solar panel system. It also depends on a total solution using low power consumption LED's and efficient electric gadgets in use.
Turnkey Solutions:
The most effective and cost considerate way to install a complete commercial or residential solar system, whether for electricity or heat, is to use the turnkey solar solutions offered by top solar energy companies. Solar solutions providers will be able to professionally assess the amount of solar electricity or heat required for each installation and provide a comprehensive choice of products that can be used. They will be able to advice on which solar panels will best fit your home or business whilst considering your budget and advising you on how to conserve energy to maximize the benefits of solar power.